Monday Mob hop, come link up your blogs
Good Monday Morning every one its that time again! So let's get together and hop along. This is a great way to get new GFC followers and more people to your page.
All I ask you to do is make sure you are following the Host and Cohost and as many other people as you want.
Please make sure you follow the host and co host.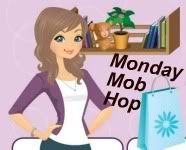 I have a great new girl that is going to be helping me out each week, but if you would still like to co host just send me an email at mummyreviews @gmail.com
Stacie from "
love you always and forever
" also does some great product reviews and giveaways too. So make sure you check out what new giveaways she has going on!