Fluffy Butts Sponsor Spotlight: generationMe
As a cloth diapering mom, I'm always on the look out for items that will help with diaper changes. I found a cute etsy shop called
generationMe
. I've heard many wonderful things about this shop, and was pleased when I had an opportunity to try them out. The shop sells many items including cloth wipes, doublers, wet bags, and laundry detergent. Also offered are reusable napkins, resusable paper towels, mop and sweeper reusable pads, produce bags, snack and sandwich bags and dishwasher detergent. I love the variety of items being sold. Meg says Simple Concept. Sweet Design. Concept is to use products that have less waste and promote healthier living. The designs are based on function, practicality, ease of use, and a sweet design.
For this event, I was sent a set of 8 wipes in a
robot print
to review.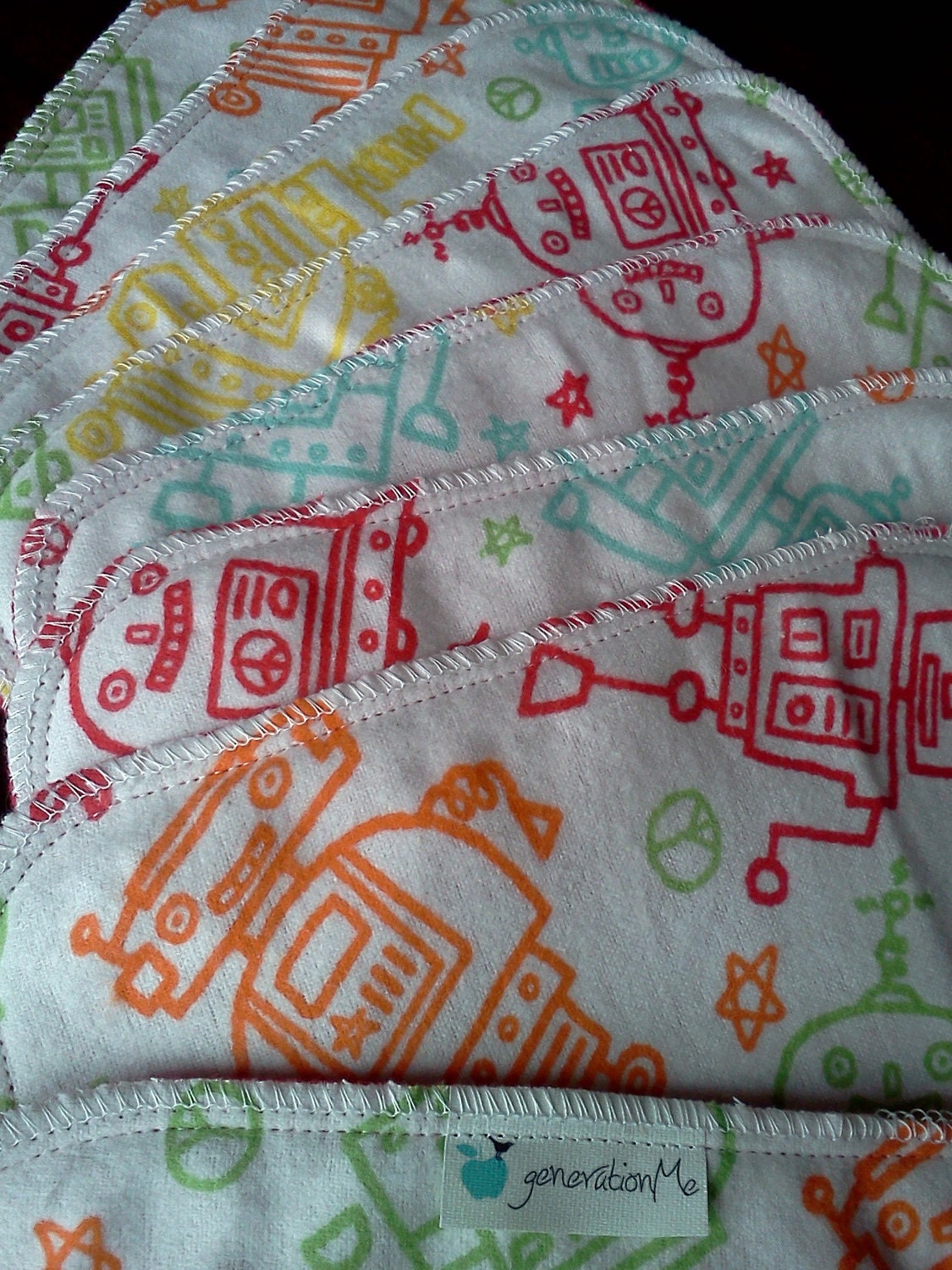 Robot print wipes

Cloth wipes are the perfect supplement for cloth diapering. Why go cloth with just the diaper and then buy disposable wipes? Using cloth wipes prevents you from having the added expense of disposable, eliminates the chemicals involved in disposables, and creates less waste. Plus cloth wipes are convenient. To use just get them wet or use a wipe solution on them. Then you can just toss them in with your diaper laundry to wash.
Robot Wipe
Back Side of Wipe
With hand, to show Size
There are a variety of ways you can use cloth wipes too. You can use them for:
1. Messy Bottoms
2. Messy Faces and hands
3. Wiping Noses
4. Washcloth
5. Diaper Soaker (I hadn't thought of this one...but Meg suggests it on her shop page.)
6. Etc.
Basically if you'd use a wipe for it, then you can use a cloth one for it.
I chose to leave this set in my kitchen to clean up my kids messy hands and faces after eating. These have also come in handy for wiping up my children's small spills as they eat. The wipes do a great job at picking up any mess. Since I don't use this set with my kid's bottoms, I don't wash it with the diapers. I throw them in with towels or other similar items. Just machine wash/ tumble dry. I've washed them several times and they still come out super soft.
These wipes measure 8"x5" and are serged for durability. They can fit into any standard wipes case. Plus they are made out of soft flannel and fleece. The flannel and fleece is super comfy next to baby or any other family members skin. These wipes aren't too big or too small either.
Overall:
I think these wipes are great. Valued at $8 for 8 wipes...the price is good. They are super soft, offer cute prints, and are excellent for cleaning all kinds of messes. The wipes are a must have in my book.
Win It: As part of the fluffy butts hop you can win a set of 8 wipes.
Be sure to favorite on
Etsy
and follow on
facebook
.