Jerom Birthday Bash: Uniquely Me Designs
I first came across
Uniquely Me Designs
shortly after my son's 1st birthday. I thought their 12 month photo banner was cute, but unfortunately Jerom had just turned 1. So I didn't need a banner right away. A year past, and my nephew was turning 1. I remembered this shop and had to get him a birthday banner to celebrate.
I contacted the shop about doing a 12 month photo banner. I chose the
12-month-photo-banner-surfer
. I then had to wait to get pictures from sister-in-law to use for my nephew's 1st birthday party. While I was waiting her party plans changed and she could no longer use the banner. So I discussed with the shop and we made some adjustments so that I could use it for my sons 2nd birthday instead. First off I changed it from having #s for the month to having letters spelling out Happy Birthday. Since Happy Birthday was 13 letters instead of 12 we ended up adding a 13th photo.
Photo Banner I received
I love the customer service of this shop. The communications were prompt and courteous. She willingly waited for me to gather photos. She asked if I wanted the photos all the same direction or if it was okay to be different directions. Since I chose some horizontal and some vertical photos I said that it was okay to have them going both ways. She also kept me informed on when the item was shipping.
At my party, my guests were commenting on how nice the banner looked. Asking if I made it or where I got it. My guests loved looking at his pictures from birth to now and seeing how he grew. It makes a great way to celebrate his birth. Conversations started based on the pictures that I chose. People were remembering the different events that were pictured. This banner gave the party a nice personal touch.
This shop sells photo banners, birthday banners, wedding and other banners, welcome sign, and a high chair banner. I'm sure you will find something to suit your party needs. If you contact the owner, she will work with you on getting you what you are looking for.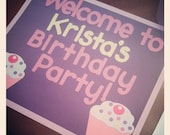 cute party welcome sign that the shop also sells
Be sure to visit
Uniquely Me Designs
and like them on
facebook
.